Tuesday, November 24, 2009
http://www.rollingstone.com/rockdaily/index.php/2009/09/24/hype-monitor-miike-snow-crookers-qwel-maker/
Qwel & Maker were recently featured in
Rolling Stone's 'Hype Monitor'
alongside Crookers and Miike Snow for their new album So Be It (Galapagos4).
Posted by

Maker
at 4:48 PM
No comments:

Tuesday, November 17, 2009
Tour Dates for the GrayMaker Tour
11/28/2009 Portland, OR Slabtown 1033 NW 16th, Portland, OR
11/29/2009 Sacramento ImageVIP 705 J St
11/30/2009 San Francisco The Elbo 647 Valencia St San Francisco, CA 94110
12/2/2009 San Jose The Voodoo Lounge 14 S 2nd St San Jose, CA 95113
12/3/2009 LA Five Stars Bar 267 S Main St Los Angeles, CA 90012
12/5/2009 WInterhaven Open Aired 2103 Winterhaven Dr Winterhaven, CA
12/6/2009 Vegas The Farm 5597 S Rainbow BLVD 89133
12/8/2009 Tuscon Sports on Congress 254 E. Congress Tucson, AZ
12/10/2009 Tempe Blunt Club 2155 E. University rd, Tempe, AZ
12/11/2009 ABQ Burt's Tiki Lounge-313 Gold Ave SW Albuquerque, NM 87102
12/12/2009 Las Cruces El Patio 2171 Calle De Parian SW
12/13/2009 Santa Fe Corazon 401 S. Guadalupe Santa Fe
12/14/2009 Pueblo Phil's Radiator 109 E. C St
12/15/2009 Denver City Hall 1155 Sherman Street, Denver, CO 80203
12/16/2009 Colorado Springs Black Sheep 2106 E Platte Colorado Springs
12/17/2009 Casper, WY Gigz
12/18/2009 Bozeman Zebra
12/19/2009 Boise Nurolux
Posted by

Maker
at 4:37 PM
No comments: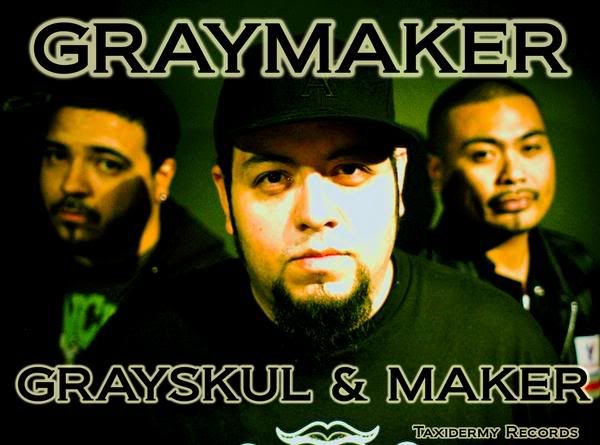 Rhymesayers/Oldominon emcees JFK & Onry Ozzborn, better known as Grayskul, have teamed up with indie superstar beatsmith Maker to form Graymaker! The new album drops Tuesday, October 27th, and a special package is available from SFRstore.com!
While supplies last, every order from SFRstore will include an 11×17 Graymaker poster personally SIGNED by JFK, Onry, and Maker!
Order Here

Listen to "Crazy Talk"
Tour dates going up soon!